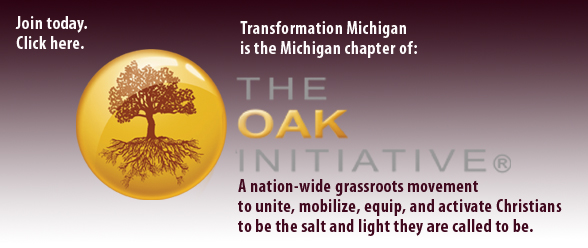 OAK INITIATIVE GATHERING – NOVEMBER 21ST – 10AM – 3PM
Action steps must be provided to engage our culture so people can vote Biblically in the next election. General Boykin and Rick Joyner's are founders of the Oak initiative – theoakinitiative.org. We will literally release a ground game (action plan) that can be implemented across our state. We need solutions as we utilize billboards, door-to-door handouts, social media, radio, as we release a specific plan to be part in preserving our nation…"We Agree America".
READ MORE……
Calling all Michigan Oak Initiative members and those interested in transforming our government to a special meeting Saturday November 21, 2015.
What: Michigan Oak Initiative/God and Government organizational meeting
When:  Saturday November 21, 2015 from 10 am -3 pm.
Where: Hickory Ridge Community Church
1360 N Hickory Ridge Trails
Milford, MI
Who: All current Oak members and those wishing to learn more or be plugged into the Oak.
Why: Our nation and state need an Awakening.  We will be building an infrastructure to engage our culture to help birth a great awakening in our State and to raise Christian responsibility to vote Biblically.
An RSVP to mioakinitiative@gmail.com would be appreciated so we can plan for lunch.  You may also call and leave a message at 616-884-5869.
Did you know that Michigan has more Oak members than any other state?  We have over 100 paid members who have donated to the Oak Initiative.  Now is the time to get organized!
Our hope is to organize our state into regions with Oak chapters so we can coordinate our efforts.  We will meet from 10 AM until 3 PM at Hickory Ridge Community Church in Milford, Michigan.  The morning session will be two hours of content to help us coordinate our chapters allowing Oak members to connect with others from their region.  There will be some instruction on pending issues and how to successfully confront the evil of our time as we take a stand for Jesus Christ and advance the Kingdom of God.
Rick Joyner will join us via Skype for a greeting and encouragement.  This is a time to share ideas, so if you feel you have an idea that would help us take Michigan for the Kingdom of God, please bring those ideas with you.
NOTE: We will then break for a lunch that will be included with your registration fee.
At 1 PM until 3 PM we will enter into a time of worship and intercession.  This will be a time to get the heart of God for additional details from our morning meeting.  It is important that we approach Michigan with a double edged sword of action and prayer, so we will use this format for this meeting.  This is not a conference.  This is a strategy meeting.  Feel free to bring a friend who you think would be interested in being part of The Oak Initiative.
Lunch provided!
Oak members $10.
Guests             $20
A freewill offering will be received to help build the war chest for the Michigan Oak Initiative (a 501(c)(3) non-profit affiliated State branch of The Oak Initiative). Future donations can be sent to Michigan Oak Initiative, P.O. Box 136, Belmont, MI 49306