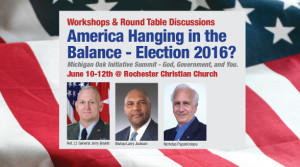 A great weekend approaching for 
"America Hanging in the Balance – Election 2016"
 with Ret. Lt General Boykin and Bishop Larry Jackson (Other Guest Speakers – see schedule link). I have enclosed the updated weekend schedule and helpful driving instructions below depending which direction you are coming from. We are in for a very informative weekend that will give us prayer and action direction for the intense season we are in. Attempt to make time to attend – you will not be disappointed. 
NO REGISTRATION FEE!
FOR PASTORS AND LEADERS
: You have a complimentary lunch invite for
11:30AM
– the Q/A panel following will be led by General Boykin, Bishop Jackson, Nicholas Papanicolaou and William Wagner. They will cover many areas of strategic action. 
We have a few spots left.
  Need a
RSVP
for a spot – 
rw247365@gmail.com
NOTE: We will have a number of display tables that will offer very helpful information for families. We must be physically and spiritually prepared!
God bless,
Rick Warywak
Mark Gurley
MI Oak/Transformation MI
CONFERENCE DRIVING INFORMATION:

There is much road work being done here in the area so here are maybe the best routes when coming to the conference.
Exit at Joslyn Rd., go north to Brown Rd., turn east on Borwn Rd. and take to Adams Rd.
(Brown Rd.changes names to Dutton Rd. at Lapeer Rd.), 
Turn south on Adams Rd. take to Tinken Rd.
Turn east on Tinken Rd. take to Rochester Rd. 
At Rochester Rd., turn north and take to church (approx. 2 miles) @ Snell Rd.
Exit at M-59, go east on M-59 to Rochester Rd. (M-150).
Turn north on Rochester Rd. (go thru downtown Rochester) to church (approx. 10 mil).
Eastbound thru City of Pontiac (called Huron St. in Waterford and Pontiac), cross I-75 
and go to Rochester Rd.   Turn north on Rochester Rd., to church.
M-59 west to Rochester Rd., turn north and take Rochester Rd. to church.
South on Lapeer Rd., to city of Lake Orion. 
East in downtown Lake Orion on Flint St. – East on Orion Rd. to Rochester Rd.
North on Rochester Rd. (1 mile) to church.
CHURCH LOCATION:     =     =     =     = 
Rochester Christian church (aka: Rochester First Assembly of God)
Corner of Rochester Rd and Snell Rd. (*next to Angel Cemetery).
(approx 3 miles north of downtown Rochester).