Transformation Michigan is reaching out STRONG on College Campus's all over Michigan with our newly launched website CampusReset.org and onsite preaching of the Gospel
However, without your help, continuing will be a difficult task.
An ELECTRONIC POLL was taken in a Media Law class of 40 Senior's in the Fall of 2016 at Central MI University class I was about to address. Even though this is a small sample it is very indicative of the present worldview of students on campuses.
32% Supported Abortion with No restrictions whatsoever, 78% Strongly supported Gay Marriage  only 3% believed Religion should have a major influence in our civic life (laws/politics/civil rights), however there is HOPE!
In that Electronic Poll we also found 33% of the students believed God was real and 67% agreed to preaching, (or freedom of speech), on campus with few or no restrictions. THIS IS OUR OPEN DOOR!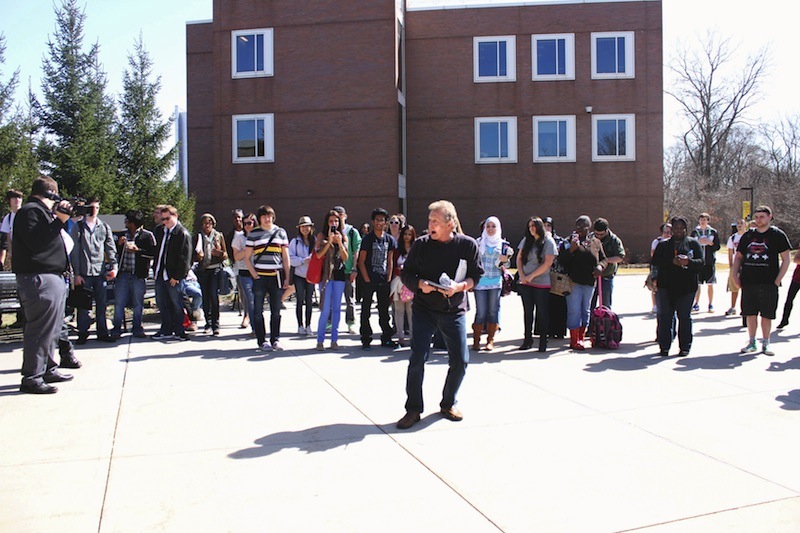 Rick Warzywak Speaking at a Dearborn Campus
WE NEED YOUR SUPPORT!
We have need of a new ministry laptop that will be used for Transformation MI and the MI Capitol House of Prayer – $800.00
A fund is needed to host speakers to cover expenses to engage universities and High School students in MI. We will be working with Dr. Frank Turek of org and other notable MI speakers to bring a Biblical worldview to campuses and proving the Bible is true. We need a startup fund – $2,500.00 – 5,000.00.
Traveling/Car related ministry business expenses – $1000.00
Website Development – our websites are in desperate need of updating org TransformMI.com – HiddenonesMI.com – $1000.00
These are real and urgent needs and your gift is appreciated. If you are unable to give at this time but know someone who may be interested please forward this email to them with a short referral. Together we make this happen!
We are a 501(c)3 and gifts are tax deductible. Our address is Transformation MI – PO Box 12 – Atlanta, MI – 49709. You can utilize Pay Pal: http://transformmi.com/donate
There is a Michigan Oak Initiative Upcoming Conference On May 5-6 and we are securing a location in Lansing which will be announced by April 4th. We WILL challenge the church to engage this culture in this great time of divisiveness. CLICK HERE FOR SPEAKERS AND INFORMATION