The Millennial's again will be our focus. I recently spoke in 2 media law classes this past week at Central MI University. Study the poll taken for 92 students. (Link Here)  I assure you these numbers are highly indicative of our young people on campuses in MI. I can say this after many years of experience. The professor gave me full reign in both classes. One class was very contentious but much was accomplished as I fielded questions for the majority of the time. See the College Poll Here !!!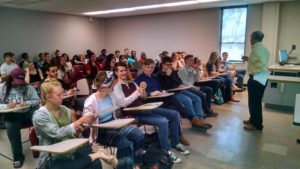 WHATS WRONG WITH MILLENNIAL'S?
This is an interesting video that should give us insights (not a Biblical Worldview necessarily) where much truth to consider is presented. We must better attempt to understand this generation:   Click here to view the video  https://youtu.be/Sc5x-EcvQYY or listen below
POINT TO PONDER: "Ninety per cent of Christians are not pro-active because they do not know what to say about the top issues the culture is facing today. The church lacks knowledge regarding what to do when given a nation." Lance Walnau
WHAT CAN WE DO – REACHING MILLENNIALS?
Campus Reset needs finances to further develop our website – campusreset.org – and other outreaches to reach this generation. We are on the front lines and we must increase our social media outreach with excellence.
Need more handouts and brochures printed.
Search engine optimization – to increase traffic to our social media outreach.
Produce "Action Pacs" giving information and insights to parents and young people answers and action steps to take back our culture in moral issues (Gay Marriage/Abortion); rule of law; Biblical Worldview…etc.
Travel expenses to visit campuses.
Need volunteers to visit campuses with me…to be more effective!
Speaker fund to bring in speakers to universities that have expertise in issues of the day.
Need a video recording location that has good equipment to record short video clips.
THE CHALLENGE
I make no apologies for seeking donations (small and large) if we desire to turn this major voting block back to a Biblical worldview. Support this effort…are their donors out there who can make a major contribution? Please prayerfully consider supporting CampusReset.org's mission on the college campuses of our state. The fields are white on to harvest and we are positioned to gather them in.
To financially support this mission go to our Donate page for instructions. 
SEND A TAX DEDUCTIBLE CONTRIBUTION: Transformation MI – PO Box 12 – Atlanta, MI – 49709
Current Sample Poll of College Freshman/Sophomores/Juniors – APRIL 2017
A DEFENSE AGAINST THE TRANSGENDER ISSUE – BEN SHAPIRO
This is a great example of how to defend a Biblical Worldview on this issue today!

Or Click here for the video  https://youtu.be/gkONHNXGfaM